Black and White Cheesecake Bars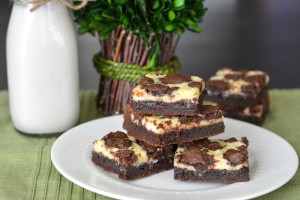 2 cups plus 2 tbsp all-purpose flour
¾ cup cocoa powder
1 tsp baking soda
½ tsp salt
10 oz (2½ sticks) unsalted butter, softened
2 cups sugar
3 large eggs
2½ tsp vanilla extract
8 oz cream cheese, softened
½ cup powdered sugar
Spray a 9x13-inch baking dish with nonstick spray. Line dish with parchment paper, leaving a 2-inch overhang on both long sides, then spray parchment paper with nonstick spray and set pan aside.
Sift flour, cocoa powder, baking soda, and salt together in a large bowl. Using an electric mixer, cream butter and sugar until smooth. Add 2 eggs and 2 tsp vanilla, and continue beating until smooth.
Slowly add flour mixture and beat until well mixed.
Reserve 1 cup of dough, cover, and refrigerate. Press remaining dough into bottom of prepared dish. Refrigerate for 30 minutes.
Preheat oven to 325 degrees. Bake until base is set and edges are puffed, about 25 minutes. Let cool in dish on a wire rack. With an electric mix, beat cream cheese, powdered sugar, remaining egg and ½ tsp vanilla. Spread over cooled base, then crumble reserved dough on top.
Bake until filling is set, 25 to 30 minutes. Let cool in dish on wire rack, then lift out using overhanging parchment paper. Cut into 24 squares.
Recipe by
Flying on Jess Fuel
at https://www.jessfuel.com/2015/11/04/black-and-white-cheesecake-bars/