Bacon Scallion Cornbread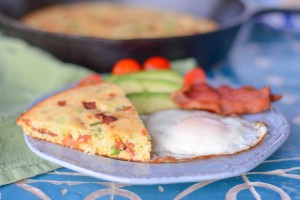 Author:
Flying on Jess Fuel
1 (7 oz) pkg Martha White Sweet Yellow Cornbread & Muffin Mix
1 egg
½ cup milk
3 slices bacon, cooked and crumbled
2 scallions (green onions), thinly sliced
Preheat oven to 400 degrees. Spray an 8-inch cast iron skillet or baking dish with nonstick spray (or rub with some of your bacon grease) and place it in the oven while it preheats, about 8 minutes.
In a bowl, combine cornbread mix, egg and milk. Stir until there are no more lumps. Add bacon and scallions and stir just to combine.
Pour cornbread mix into hot skillet or baking dish, and bake 17-20 minutes until just golden.