Pumpkin Oatmeal Pancakes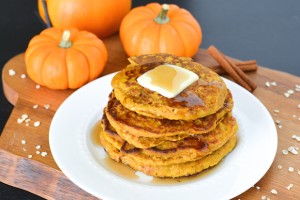 Author:
Flying on Jess Fuel
3 eggs
1 cup pumpkin puree
1½ cups milk
½ cup brown sugar
1 tbsp vanilla extract
1 cup quick oats
1 cup whole wheat flour
1½ tbsp baking powder
½ tsp salt
1 tsp ground cinnamon
¼ tsp ground ginger
¼ tsp ground cloves
Pinch nutmeg
In a large bowl, beat together eggs, pumpkin, milk, brown sugar and vanilla until smooth. Add remaining ingredients and mix until no lumps remain.
Heat a large skillet over medium-high heat. Melt a pat of butter in the pan, then pour a small ladle-full of batter into pan. Cook until edges are browned, about 2-3 minutes, then flip pancake and cook until cooked through, about another 2-3 minutes.
Repeat with remaining batter.
Serve topped with butter and lots of pure maple syrup!