Honeyed Banana Bread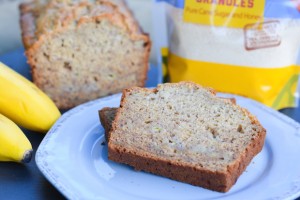 Author:
Flying on Jess Fuel
2 cups all-purpose flour
1 tsp baking soda
½ tsp ground cinnamon1/4 tsp salt
½ cup butter, softened
¾ cup Tate+Lyle® Honey Granules
2 large eggs
1 tsp vanilla extract
4 large overripe bananas, mashed
Preheat the oven to 350 degrees. Spray a 9x5-inch loaf pan with nonstick spray and set aside.
In a large mixing bowl, combine flour, baking soda, cinnamon and salt and whisk to combine.
Using a stand or hand mixer, cream together the butter and Tate+Lyle® Honey Granules until fluffy, about 3 minutes. Add the eggs and vanilla and mixer another 1 minute. Add the mashed banana and mix until just combined.
Fold the dry ingredients into the wet by hand, using a rubber spatula, until just combine.
Transfer batter to prepared loaf pan. Sprinkle top with extra Tate+Lyle® Honey Granules.
Bake 60-70 minutes, until edges are beginning to pull away from the pan, top is browned and a toothpick inserted into the center of the bread comes out clean. Cool in the pan 10 minutes, then transfer to a wire rack to finish cooling.