Lemon Orzo Soup with Turkey Mini Meatballs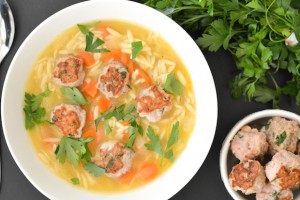 Author:
Flying on Jess Fuel
1 lb Foster Farms Organic Ground Turkey
¼ cup bread crumbs
¼ cup grated Parmesan cheese, plus more for serving
¼ cup chopped flat leaf parsley, plus more for serving
1 egg
4 garlic cloves, minced, divided
Salt & pepper
1 tbsp olive oil
1 medium onion, diced
3 large carrots, sliced
2 (32 oz) containers chicken broth
6 tbsp fresh lemon juice
2 tsp fresh lemon zest
1 cup orzo
Preheat oven to 400 degrees.
In a large bowl, combine turkey, bread crumbs, ¼ cup Parmesan, ¼ cup chopped parsley, egg, and 2 minced garlic cloves. Use your hands to mix everything together really well. Season with salt & pepper and mix.
Scoop tablespoons of turkey mixture and form into balls. Place on a baking sheet.
Bake meatballs 12 minutes until cooked through.
Meanwhile, heat olive oil in a large soup pot or dutch oven over medium-high heat. Add onion, carrots and remaining garlic and sauté until beginning to soften, about 8 minutes. Pour in chicken stock, lemon juice and zest, and stir. Bring to a boil, then stir in orzo. Cook at a light boil 8-9 minutes, until orzo is tender. Season with salt & pepper.
To serve, place 4-5 meatballs in a bowl, and ladle soup over top. Top with chopped parsley and Parmesan.
Recipe by
Flying on Jess Fuel
at https://www.jessfuel.com/2015/10/06/lemon-orzo-soup-with-turkey-mini-meatballs/