Baked Mediterranean Cod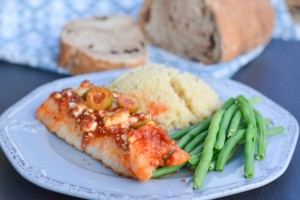 Author:
Flying on Jess Fuel
2 (4 oz) fillets frozen Alaska wild cod
1 cup jarred marinara sauce
10 green olives, halved
1 tbsp capers
¼ cup crumbled feta cheese
Preheat oven to 450 degrees.
Rinse cod to remove any ice, and pat dry. Place in a foil-lined baking dish.
Pour marinara sauce evenly over fish. Top with olives, capers and feta.
Bake 12-15 minutes, until fish is cooked through and flakes easily with a fork.
Serve with couscous or rice, and steamed veggie of choice.