Vegan Spinach and Artichoke Dip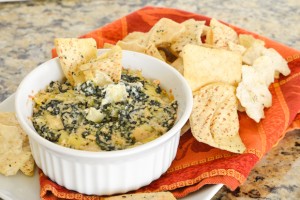 ¾ cup unsweetened Silk Almond Milk (or soy milk or cashew milk)
¾ cup raw cashews
3 tbsp freshly squeezed lemon juice
1 clove garlic
¾ tsp salt
¾ tsp fresh ground pepper
½ tsp dry ground mustard
Pinch cayenne pepper
12 oz jar marinated artichoke hearts, drained
8 oz pkg frozen spinach, defrosted and squeezed dry in a dish towel
Preheat oven to 425 degrees.
In a blender, combine almond milk, cashews, lemon juice, garlic, salt, pepper, mustard and cayenne. Pulse a few times to break up nuts, then process until smooth.
Roughly chop the artichokes and spinach. Toss together in a bowl.
Pour the nut mixture into the veggies and stir everything together.
Transfer everything to a baking dish and bake 18-20 minutes, until just beginning to brown.
Remove from oven and serve immediately with pita or tortilla chips.
Recipe by
Flying on Jess Fuel
at https://www.jessfuel.com/2015/09/23/vegan-spinach-and-artichoke-dip/