Whole Wheat Baked Apple Cider Donuts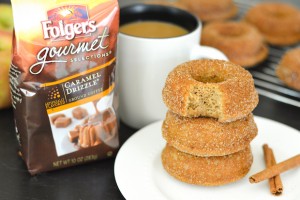 Author:
Flying on Jess Fuel
1¼ cups apple cider
1 cinnamon stick
3 whole cloves
1 cup whole wheat flour
1 cup all purpose flour
¾ tsp baking powder
1 tsp baking soda
1 tbsp + 1½ tsp ground cinnamon, divided
¼ tsp ground cloves
¼ tsp ground allspice
¼ tsp salt
1 egg
¾ cup sugar, divided
¾ cup brown sugar, divided
2 tbsp butter, melted
½ cup milk
1 tsp vanilla extract
Heat the apple cider in a small pot over high heat with cinnamon stick and whole cloves. Bring to a boil, then reduce heat and simmer 20 minutes uncovered, stirring occasionally. Set aside to cool.
Preheat oven to 350 degrees. Spray a 12-donut donut pan with with nonstick spray and set aside.
In a large bowl, combine flours, baking powder, soda, 1½ tsp cinnamon, cloves, allspice and salt.
In another bowl, whisk egg together with ½ cup sugar and ½ cup brown sugar. Whisk in melted butter, then milk and vanilla.
Remove the cinnamon stick and whole cloves from reduced cider. Stir ½ cup of reduced cider into the wet ingredients. Reserve remaining cider.
Pour wet ingredients in dry and gently mix until just combined.
Transfer batter into a pastry bag or large ziplock with the corner snipped off. Pipe the batter into prepared donut pan, filling each well about ¾ full.
Bake 20 minutes, until a toothpick inserted into a donut comes out clean. Cool 5 minutes in the pan.
While the donuts are cooling, mix 1 tbsp cinnamon with ¼ cup sugar and ¼ cup brown sugar in bowl.
Remove donuts from pan. One by one, use pastry brush to brush each donut with a bit of the reserved cider, then coat in cinnamon-sugar.
Serve immediately or store in an airtight container in the fridge. Microwave 20 seconds to reheat and serve warm.
Recipe by
Flying on Jess Fuel
at https://www.jessfuel.com/2015/09/19/whole-wheat-baked-apple-cider-donuts/