Grilled Portobello and Veggie Sandwiches with Goat Cheese and Pesto Mayo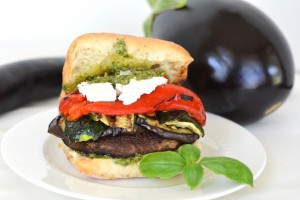 Author:
Flying on Jess Fuel
6 portobello mushroom caps, stems removed
1 large eggplant, sliced
2 medium zucchini, sliced lengthwise
Olive oil
Salt & pepper
Garlic powder
3 tbsp pesto (jarred or homemade)
2 tbsp mayonnaise
12 oz jar roasted red peppers
4 oz goat cheese
6 sandwich rolls
Preheat grill to medium-high heat. Brush portobellos, eggplant and zucchini with olive oil, then season to taste with salt, pepper and garlic powder. Grill veggies until soft and grill marked, about 5-6 minutes on each side (the mushrooms will take a little longer than the others).
Whisk together pesto and mayo.
To assemble sandwiches, spread the pesto mayo on rolls, then layer portobellos, eggplant, zucchini, roasted red peppers and goat cheese.
Enjoy!
Recipe by
Flying on Jess Fuel
at https://www.jessfuel.com/2015/09/16/grilled-portobello-and-veggie-sandwiches-with-goat-cheese-and-pesto-mayo/