Pumpkin Penne with Sausage and Sage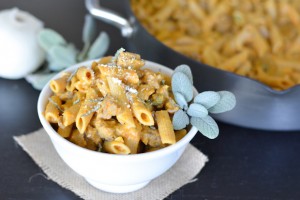 Author:
Flying on Jess Fuel
1 lb whole wheat penne
1 tbsp olive oil
1 medium onion, diced
5 cloves garlic, minced
¼ tsp red pepper flakes
1 lb bulk mild Italian sausage
2 cups chicken stock
1 (15 oz) can pumpkin puree
½ cup heavy cream
⅛ tsp ground nutmeg
¼ tsp ground cinnamon
Salt & pepper, to taste
1 tbsp thinly sliced fresh sage leaves
½ cup grated Parmesan cheese
Cook pasta according to package directions, drain.
While the pasta is cooking: Heat olive oil in a large saute pan over medium-high heat. Add onions and cook until beginning to soften, about 3 minutes. Add garlic and red pepper flakes and cook and additional 2 minutes.
Add the sausage and break it up, cooking and stirring until cooked through, about 5-6 minutes.
Add the chicken stock, pumpkin, cream, nutmeg and cinnamon. Stir and bring to a boil, then reduce heat and simmer for about 8 minutes. Season to taste with salt & pepper.
Remove from heat and stir in sage, Parmesan and cooked penne.
Serve topped with extra Parmesan!
Recipe by
Flying on Jess Fuel
at https://www.jessfuel.com/2015/09/03/pumpkin-penne-with-sausage-and-sage/