Peaches 'n Cream Baked Oatmeal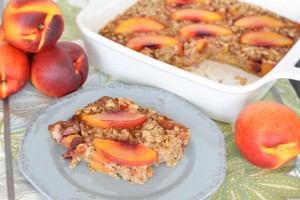 Author:
Flying on Jess Fuel
1½ cups rolled oats
⅓ cup brown sugar
1 tsp baking powder
1 tsp cinnamon
½ tsp salt
¾ cup whole milk
2 eggs
1 tsp vanilla extract
2 medium or 3 small peaches, diced
Heavy cream, for serving (optional)
Preheat over to 350 degrees. Spray an 8-inch square baking dish with nonstick spray and set aside.
In a large bowl, stir together oats, brown sugar, baking powder, cinnamon and salt.
In another bowl, whisk together milk, eggs and vanilla.
Pour the wet ingredients into the dry, and stir to combine. Add the diced peaches and mix thoroughly.
Pour oat mixture into the prepared baking dish. Cover with foil and bake 30 minutes. Remove foil and bake an additional 5 minutes.
Serve warm, drizzled with cream, if desired.
Recipe by
Flying on Jess Fuel
at https://www.jessfuel.com/2015/09/01/peaches-n-cream-baked-oatmeal/