Quinoa and Black Bean Veggie Burgers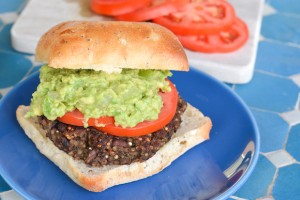 1 (15 oz) can black beans, rinsed, drained, and divided
4 tsp olive oil, divided
2 tbsp finely chopped shallots
5 tbsp uncooked quinoa, rinsed, drained, and divided
6 tbsp water
4 oz baby bella mushrooms
2 garlic cloves
2 tbsp chopped fresh cilantro
2 tsp minced jalapeno
1 tsp ground cumin
⅝ tsp kosher salt, divided
¼ tsp chipotle chile powder
1 large egg
2 medium avocados, diced
1 tbsp fresh lime juice
1 small tomatillo, finely chopped
4 buns, for serving
Tomato slices, for serving
Preheat oven to 350 degrees.
Spread half of the black beans in a single layer on a foil-lined baking sheet. Bake 20 minutes.
Heat 1 tsp olive oil in a small saucepan over medium heat. Add shallots and cook until softened, 3-5 minutes. Add 3 tablespoons of the quinoa and stir, cooking a couple minutes until toasted. Add the water and bring to a boil, then reduce heat, cover and simmer 10 minutes or until liquid is absorbed.
In a food processor, combine remaining uncooked quinoa, mushrooms, garlic, and untoasted beans, and pulse a few times until coarsely chopped. Add the cooked quinoa mixture, cilantro, jalapeno, cumin, ½ teaspoon salt, chile powder, and egg, then pulse until combined. Pour mixture into a bowl and add toasted beans. Stir well to combine.
Divide the mixture into 4 equal portions and shape each portion into a ½-inch-thick patty.
Heat remaining oil in a large cast-iron skillet over medium heat. Carefully add the burgers and cook 5 minutes. Gently flip the burgers and cook and additional 5 minutes.
Meanwhile, combine the avocado, lime juice, tomatillo, and remaining salt in a small bowl, and mash with a fork.
Serve burgers on toasted buns with guacamole and tomato slices!
Recipe by
Flying on Jess Fuel
at https://www.jessfuel.com/2015/08/25/quinoa-and-black-bean-veggie-burgers/