Salted Caramel Almond Baked Brie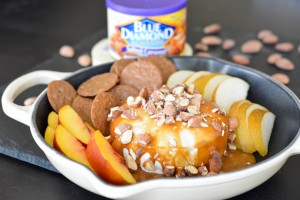 Author:
Flying on Jess Fuel
½ cup sugar
3 tbsp butter
¼ cup heavy cream
¼ tsp salt
1 small wheel brie cheese
¼ cup chopped Blue Diamond Salted Caramel Almonds
Crackers and sliced fruit, for serving
Preheat oven to 375 degrees.
Heat sugar over medium heat in a small saucepan, stirring constantly, until sugar clumps up and then melts to a smooth syrup.
Carefully add butter while stirring constantly (mixture will bubble up). Continue cooking and stirring until butter is melted.
Slowly pour in heavy cream while constantly stirring. Once cream is stirred in, continue cooking and stirring for 1 minute.
Remove from heat and stir in salt. Let cool until slightly thickened, about 10 minutes.
Place brie in a shallow baking dish (or cast iron skillet). Bake 10-15 minutes, checking after 10 minutes, until brie rind is puffed up in the middle. You want the brie to melt fully without busting the rind.
Remove brie from oven, pour caramel sauce over top, then sprinkle with almonds.
Serve with crackers and sliced fresh fruit.
You'll want to use a small wheel of brie that is fully encased in rind. If you use a slice of brie, decrease baking time and bake only until cheese is oozing out.
Recipe by
Flying on Jess Fuel
at https://www.jessfuel.com/2015/08/21/salted-caramel-almond-baked-brie/