Southwestern Corn Salad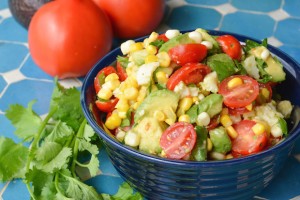 Author:
Flying on Jess Fuel
2 ears fresh corn, lightly steamed or microwaved, and kernels removed
1 pint grape tomatoes, halved
2 large avocados, diced
½ cup crumbled cotija cheese
2 tbsp chopped fresh cilantro
Juice of 1-2 limes, to taste
Salt & pepper, to taste
In a large bowl, combine corn kernels, tomatoes, avocado, cotija and cilantro. Toss well.
Squeeze juice of 1 lime over top, season with salt & pepper. Toss well. Taste and add more lime, salt and pepper if needed.
Serve immediately or store in the fridge in an airtight container.