Chipotle Peach BBQ Chicken Skewers with Jalapeno Grilled Cornbread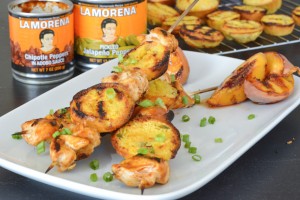 Author:
Flying on Jess Fuel
FOR THE CORNBREAD:
1¼ cups cornmeal
¾ cup all-purpose flour
2½ tsp baking powder
½ tsp salt
1 cup + 2 tbsp buttermilk (or 1 cup + 1 tbsp milk and 1 tbsp vinegar)
1 large egg
2 tbsp honey
¼ cup sliced green onions
1 cup frozen corn, thawed
¼ cup minced pickled jalapeno peppers
1 cup shredded sharp cheddar cheese
FOR THE SKEWERS:
1 large ripe peach, pit removed
2 chipotle peppers in adobo, plus 1 tsp adobo sauce from can
1 cup good quality BBQ sauce
2 lbs boneless, skinless chicken, cut into bite-sized chunks
½ batch jalapeno cornbread mini muffins
Place peach and chipotles in a food processor or blender, and pulse a few times. Add BBQ sauce and process until smooth.
Preheat grill to medium-high heat.
FOR THE CORNBREAD: Preheat oven to 400 degrees. Spray 24 mini muffin cups with nonstick spray and set aside.
In a large bowl, whisk together cornmeal, flour, baking powder and salt. In another bowl, whisk together buttermilk, egg and honey. Pour the wet ingredients into the dry and stir until combined. Fold in the green onions, corn, jalapenos and cheese.
Divide evenly between muffin cups. Bake 14-16 minutes, until tops are golden brown. Cool a few minutes in the muffin pan, then transfer to a wire rack to finish cooling.
FOR THE SKEWERS: Coat chicken in ¾ the BBQ sauce, reserving about ¼ of the sauce (don't let it touch the raw chicken).
Cut mini muffins in half, and place chicken and muffins onto skewers, alternating between chicken and cornbread.
Place skewers on grill and cook 4-6 minutes on each side, until chicken is cooked through and cornbread is toasted.
Remove from grill and brush chicken with reserved BBQ sauce.
Serve immediately.
You won't need the whole batch of mini muffins for the skewers. They freeze well and you can use them later when you make a batch of chili!
Recipe by
Flying on Jess Fuel
at https://www.jessfuel.com/2015/08/17/chipotle-peach-bbq-chicken-skewers-with-jalapeno-grilled-cornbread/