Fresh Peach Shortcakes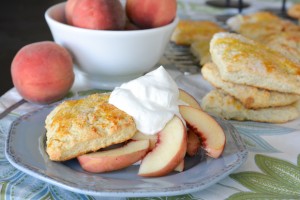 Author:
Flying on Jess Fuel
12 medium ripe peaches, sliced
⅓ cup + 2 tbsp + 1 tsp sugar, divided
⅓ cup cold butter, cut into small cubes
2 ½ cups flour
1 tbsp baking powder
¼ tsp salt
1 cup buttermilk
1 egg yolk, slightly beaten
2 cups heavy whipping cream
¼ cup powdered sugar
1 tsp vanilla extract
Preheat oven to 400 degrees.
Place sliced peaches in a bowl, sprinkle 2 tbsp sugar over them and toss to coat. Set aside.
In a food processor, combine butter, ⅓ cup sugar, flour, baking powder and salt. Pulse until a crumbly mixture forms.
Pour flour mix into a bowl and stir in buttermilk until just combined.
Dump dough out onto a floured surface and knead a few times until dough comes together. Pat out the dough to ½-inch thickness.
Cut dough into 12 even pieces and place on an ungreased cookie sheet. Brush each with egg yolk and sprinkle with remaining sugar.
Bake 12 to 15 minutes, until tops are golden brown. Let cool slightly before serving.
To make the whipped cream, combine whipping cream, powdered sugar and vanilla. Beat with an electric mixer until stiff peaks form.
To serve, top each shortcake with peaches and whipped cream!