Zucchini Bread Mini Muffins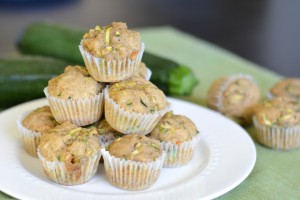 1⅓ cups all-purpose flour
½ cup brown sugar
1 tsp baking powder
1 tsp ground cinnamon
¼ tsp ground allspice
½ tsp salt
¾ cup shredded zucchini
3 tbsp canola oil
2 tbsp butter, melted
2 tbsp milk
1 tsp vanilla extract
1 egg, lightly beaten
Preheat oven to 400 degrees. Line 24 mini muffin cups with cupcake liners, or spray with nonstick spray.
In a bowl, combine flour, brown sugar, baking powder, spices and salt.
In another bowl, combine remaining ingredients and mix well.
Pour the wet ingredients into the dry and stir until just combined.
Divide batter evenly into 24 mini muffin cups.
Bake 10 minutes, until a toothpick inserted into muffins comes out clean.
Cool for a few minutes in the pan, then enjoy while warm or transfer to a wire rack to finish cooling.
Recipe by
Flying on Jess Fuel
at https://www.jessfuel.com/2015/08/02/zucchini-bread-mini-muffins/