Lemon Poppy Seed Mini Muffins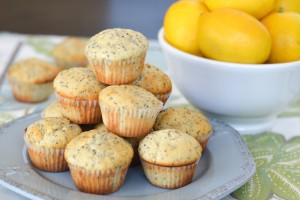 1 cup sugar
2 cups flour
2 tsp baking powder
¼ tsp baking soda
1½ tbsp lemon zest
¼ tsp salt
2 eggs
8 tbsp unsalted butter, melted
2½ tbsp lemon juice
¾ cup sour cream
3 tbsp poppy seeds
Preheat oven to 400 degrees. Line 36 mini muffin cups with liners and set aside.
In a large bowl, whisk together flour, sugar, baking powder, baking soda, lemon zest, and salt.
In another bowl, whisk together butter, eggs, lemon juice, and sour cream until well combined.
Add wet ingredients to dry and mix until just combined. Stir in poppy seeds.
Fill each muffin cup ¾ full. Bake 15-16 minutes, until golden brown.
Cool in the pan a few minutes, then transfer to a wire rack.
Recipe by
Flying on Jess Fuel
at https://www.jessfuel.com/2015/07/08/lemon-poppy-seed-mini-muffins/