Sweet Basil Brownie Sundaes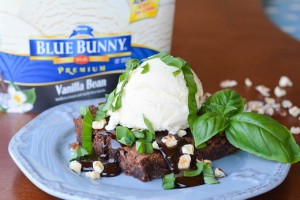 Author:
Flying on Jess Fuel
FOR THE BROWNIES:
1 stick butter, melted
1 cup sugar
1 tsp vanilla extract
2 eggs
½ cup all-purpose flour
⅓ cup cocoa powder
¼ tsp baking powder
¼ tsp salt
1 cup chocolate chips
FOR THE SUNDAES:
Blue Bunny Vanilla Bean Ice Cream
Toasted hazelnuts, roughly chopped
Hot fudge
Fresh basil, cut in thin strips
Preheat oven to 350 degrees.
In a medium bowl, combine butter, sugar, vanilla and eggs. In another bowl, sift together flour, cocoa powder, baking powder and salt.
Add the wet ingredients to the dry ingredients, and stir until well mixed. Fold in the chocolate chips. Spread in a nonstick sprayed 8-inch square baking dish.
Bake 25 to 30 minutes until the edges of the brownies begin to pull away from the pan. Cool completely before cutting.
To make the sundaes, top warmed brownies with hot fudge, hazelnuts and a big scoop of vanilla ice cream. Sprinkle chopped basil on top.
Recipe by
Flying on Jess Fuel
at https://www.jessfuel.com/2015/06/29/sweet-basil-brownie-sundaes/