Chicken Tzatziki Salad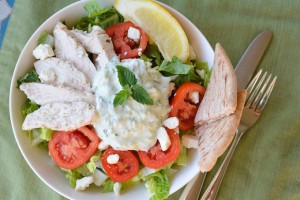 Author:
Flying on Jess Fuel
1-2 cups chopped romaine lettuce
1 small tomato, sliced
2 tbsp crumbled feta cheese
1 cooked chicken breast, sliced
¼ cup tzatziki sauce
Pita bread, for serving
Combine all ingredients in a large bowl.
Toss to distribute tzatziki.
Serve with pita bread!