Buffalo Chicken Bites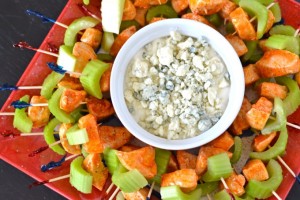 Author:
Flying on Jess Fuel
1 tbsp olive oil
1 lb chicken tenderloins, cut into 1-inch pieces
½ cup buffalo sauce (I like Frank's RedHot)
5 celery stalks, cut into ½-inch pieces
½ cup blue cheese dressing
2 tbsp blue cheese crumbles (optional)
Heat the oil in a large skillet over medium-high heat. When hot, add the chicken and cook until browned and cooked through, about 8 minutes, stirring occasionally.
Remove from heat and transfer chicken into a large bowl. Pour in buffalo sauce and toss to coat. Let cool until cool enough to handle.
When the chicken is cool, skewer one piece of celery and one piece of chicken onto a toothpick. Repeat with remaining chicken and celery.
Serve with blue cheese dressing (topped with blue cheese crumbles if you like extra cheese!).