Cinnamon Blackberry Crisp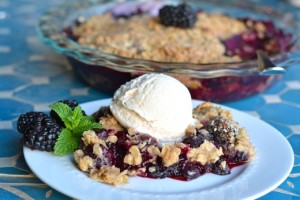 Author:
Flying on Jess Fuel
6 cups fresh blackberries
¼ cup sugar
¼ cup flour
½ tsp ground cinnamon
FOR THE TOPPING:
1 cup old-fashioned oatmeal
½ cup flour
¼ cup sugar
¾ cup brown sugar
½ tsp ground cinnamon
⅛ tsp salt
1 stick (1/2 cup) cold butter, cubed
Preheat oven to 350 degrees. Spray a pie pan with nonstick spray and set aside.
In a large bowl, toss together blackberries, sugar, flour and cinnamon. Let sit while you prepare the topping.
In another bowl, combine the topping ingredients except for the butter, and mix well. Add the butter and use a pastry cutter or 2 knives to cut the butter into the dry mixture until a coarse meal forms. If you need to, you can work it with your fingers but do it very quickly and don't let the butter melt from the heat of your hands.
Pour the berry mixture into the pie pan, then pour the oatmeal mixture evenly over top.
Bake 55-60 minutes until the top is golden and berries are bubbling. Serve warm or let cool and serve at room temperature. I suggest topping it with vanilla ice cream!
Recipe by
Flying on Jess Fuel
at https://www.jessfuel.com/2015/06/09/cinnamon-blackberry-crisp/