Thin Mint Rice Krispie Treats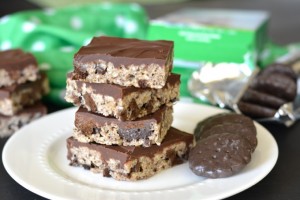 Author:
Flying on Jess Fuel
4 cups Rice Krispies cereal
2 cups roughly chopped Thin Mints (or Grasshopper cookies)
3 tablespoons butter
6 cups mini marshmallows
1 (10 oz) bag chocolate chips
Spray a 9x13 inch baking pan with nonstick spray and set aside.
In a large bowl, toss together cereal and chopped cookies. Set aside.
In another large, microwave-safe bowl, melt butter. Add the marshmallows, toss to coat, and microwave 3 minutes, stirring halfway through. Stir until marshmallows are completely melted.
Pour the marshmallow mixture into the cereal mixture and very quickly stir it all together with a rubber spatula until the marshmallow is evenly distributed.
Press into the prepared pan. Tip: Use a nonstick-sprayed piece of wax paper to press the mixture into the pan.
Place the chocolate chips in a microwave-safe bowl and microwave for 1 minute. Stir the chocolate chips, then return to the microwave for 30 seconds, remove and stir until melted. If they need to be heated longer, heat in 15-second intervals, stirring in between, until melted.
Pour the chocolate over the crispy treats and use a spatula to evenly distribute it.
Let cool completely, then cut and serve.
Recipe by
Flying on Jess Fuel
at https://www.jessfuel.com/2015/06/08/thin-mint-rice-krispie-treats/