Blood Orange Ricotta Pancakes with Strawberry Orange Sauce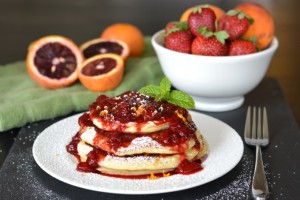 Author:
Flying on Jess Fuel
FOR THE PANCAKES:
1 (15 oz) container ricotta cheese
2 tbsp sugar
2 eggs
1 tbsp blood orange zest
2 tbsp blood orange juice
⅔ cup flour
1 tsp baking powder
FOR THE SAUCE:
2 cups chopped strawberries
¼ cup blood orange juice
1 tsp blood orange zest
2 tbsp sugar
To make the sauce: Combine all ingredients in a small saucepan and cook over medium-low heat, stirring frequently until strawberries break down and liquid comes to a boil. Reduce heat to low and simmer, stirring frequently, until sauce is thickened, about 20 minutes. (Note: if you start the sauce first, it will be done when the pancakes are done.)
In a large bowl, whisk together ricotta, sugar, eggs, orange zest and juice. Add flour and baking powder and stir until well combined.
Heat a large skillet over medium-low heat. (If the skillet is not non-stick, add some butter to the pan.)
Ladle batter into the skillet and cook pancakes until edges are beginning to crisp, about 5 minutes. Flip pancakes and cook an additional 3-4 minutes.
Serve pancakes topped with warm strawberry sauce.
Recipe by
Flying on Jess Fuel
at https://www.jessfuel.com/2015/05/27/blood-orange-ricotta-pancakes-with-strawberry-orange-sauce/