Tuscan Chickpea Soup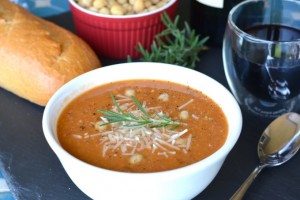 2 tbsp olive oil
2 cups finely chopped onion
8 garlic cloves, minced
4 cups water
1½ tsp minced fresh rosemary (or ¼ tsp dried)
¾ tsp salt
¼ tsp fresh cracked pepper
3 (15½ oz) cans chickpeas, rinsed and drained
1 (14½ oz) can diced tomatoes, undrained
2 tbsp balsamic vinegar
6 tbsp grated fresh Parmesan cheese
Heat the olive oil in a large soup pot or Dutch oven over medium heat. Add onion and garlic, and cook for 10 minutes, stirring frequently, until soft.
Stir in the water, rosemary, salt & pepper, chickpeas and tomatoes, and bring to a boil. Reduce heat, and simmer 20 minutes.
Use an immersion blender to puree about half the soup. (OR, use a regular and blend about 4 cups of the soup, then return it to the pot.)
Stir in the vinegar, and bring to a boil. Remove from heat.
Serve topped with Parmesan cheese, along with some crusty bread for dipping.