Tom Kha Gai - Thai Coconut Soup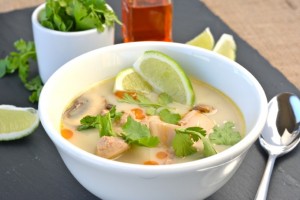 Author:
Adapted from Bon Appetit
2 stalks fresh lemongrass, outer layers removed, cut into 3-inch pieces
1-inch piece ginger, peeled and halved
Zest of 1 lime, cut in strips with a vegetable peeler
¼ cup lime juice
4 cups low-sodium chicken broth
2 cups water
1½ lbs skinless, boneless chicken thighs, cut into 1" pieces
8 oz shiitake, oyster, or maitake mushrooms, stemmed, caps cut into bite-size pieces
1 (13.5 oz) can coconut milk
1½ tbsp fish sauce
1 tsp sugar
Chili oil, cilantro, and lime wedges, for serving
Using the back of a knife, lightly smash lemongrass and ginger. Bring lemongrass, ginger, lime zest and juice, broth and water to a boil in a large soup pot. Reduce heat and simmer until broth is flavored, 8–10 minutes.
Add chicken and return to a boil. Reduce heat, add mushrooms, and simmer, skimming occasionally, until chicken is cooked through and mushrooms are soft, 20–25 minutes. Remove lemongrass, ginger and lime zest strips and discard.
Stir in coconut milk, fish sauce, and sugar.
Serve immediately with chili oil, cilantro, and lime wedges.
Recipe by
Flying on Jess Fuel
at https://www.jessfuel.com/2015/05/04/tom-kha-gai-thai-coconut-soup/