White Chocolate Raspberry Brownies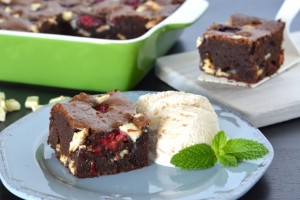 Author:
Adapted from Couscous & Consciousness
10 oz butter
7 oz dark chocolate, roughly chopped
2 cups brown sugar
6 eggs
1 cup flour
¼ tsp baking powder
1 cup frozen raspberries
7 oz white chocolate, roughly chopped
Preheat oven to 350 degrees.
Place butter in a small saucepan over low heat, stirring occasionally, until melted. Remove from heat, add the dark chocolate, and stir constantly until the chocolate is melted and mixture is smooth. Set aside to cool slightly.
Meanwhile, in a large bowl, mix together the sugar, eggs, flour and baking powder, until thoroughly combined. Stir in the chocolate-butter mixture and mix well. Add the raspberries and chopped white chocolate, and stir to combine.
Pour mixture into a nonstick-sprayed 9x13-inch pan (for thinner brownies) or an 8-inch square pan (for thicker brownies). Bake for 25-30 minutes in the 9x13 pan or 35-40 minutes in the 8-inch pan.
Remove from the oven and cool in the pan, before cutting into squares to serve.
Recipe by
Flying on Jess Fuel
at https://www.jessfuel.com/2015/04/26/white-chocolate-raspberry-brownies/