Baked Cod with Crispy Garlic Potatoes and Warm Tomato Salsa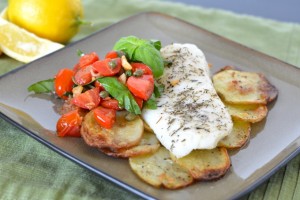 Author:
Flying on Jess Fuel
4 small yukon gold potatoes
6 cloves garlic, minced, divided
Olive oil
Salt & pepper
2 (8 oz) cod fillets
¼ tsp dried thyme
2 tbsp butter, cut into small cubes
1 cup cherry or grape tomatoes, quartered
1 tbsp capers, drained
6 leaves fresh basil, roughly chopped
Preheat the oven to 425 degrees.
Using a mandoline or very sharp knife, slice the potatoes into ⅛-inch thick slices. Brush the bottom of a 9x13-inch casserole dish or baking pan with olive oil. Toss the potato slices with half the garlic, 1 tbsp olive oil, and salt and pepper to taste. Spread the potatoes into two squares in the baking dish, overlapping edges (see photo below). Bake 30-35 minutes, until edges are becoming crispy.
Remove from oven and place 1 fillet of cod on each square of potatoes (make sure to pat the fish dry first). Sprinkle half the thyme over each fillet, then season each with salt and pepper. Top the fish evenly with cubes of butter. Return to oven and continue baking until fish is cooked through, about 12-15 minutes.
Meanwhile, heat 1 tsp olive oil in a medium skillet over medium-high heat. Add the remaining garlic and saute until fragrant, about 3 minutes. Add the tomatoes and capers and cook until heated through, about 1 more minute. Remove from heat and toss with basil.
Remove the fish from the oven. Using a wide spatula, carefully transfer the potatoes and fish to a plate. Top with tomato salsa and serve immediately.
Recipe by
Flying on Jess Fuel
at https://www.jessfuel.com/2015/04/25/baked-cod-with-crispy-garlic-potatoes-and-warm-tomato-salsa/