Pad Thai Zoodles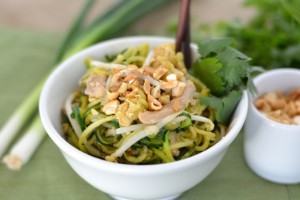 Author:
Flying on Jess Fuel
1 tbsp low-sodium soy sauce
1 tbsp fish sauce
2 tbsp fresh lime juice
2 tbsp brown sugar
1 tbsp tamarind paste
4 medium zucchini, spiralized
2 tbsp olive oil, divided
1 lb boneless skinless chicken thighs, cut into small pieces
3 garlic cloves, minced
¼ tsp red pepper flakes
2 large eggs, lightly beaten
4 green onions, sliced
1 cup bean sprouts
Chopped cilantro, for topping
Chopped dry roasted peanuts, for topping
In a bowl, stir together soy sauce, fish sauce, lime juice, sugar, and tamarind paste, and set aside.
In a large saute pan over medium-high heat, heat 1 tbsp olive oil. Add the spiralized zucchini and cook, tossing frequently, until just barely tender, about 3 minutes.
Transfer the zucchini to a colander over the sink so that the excess moisture can drain off.
In the same pan, heat remaining olive oil over medium-high heat. Add the chicken and cook, stirring occasionally, until almost cooked through, about 5-6 minutes. Add garlic and red pepper flakes and cook until fragrant, about 2 minutes. Add green onions and cook an additional 2 minutes.
Pour eggs into the pan, stir to scramble, and cook until cooked through.
Add the sauce, zucchini noodles and bean sprouts to the pan, and cook until heated through.
Serve immediately topped with chopped cilantro and peanuts.