Spinach and Red Pepper Mini Frittatas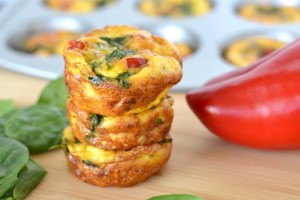 Serves:
12 mini frittatas
1 tsp olive oil
½ cup finely diced onion
½ cup finely diced red bell pepper
3 cups loosely packed spinach, roughly chopped
6 large eggs
¼ cup milk
⅔ cup shredded sharp cheddar cheese
Salt & pepper, to taste
Preheat oven to 375 degrees. Spray a 12-cup muffin tin with nonstick spray and set aside.
Heat olive oil in a medium skillet over medium-high heat. Add peppers and onions and saute until softened, about 5 minutes, stirring occasionally. Add spinach and cook until wilted. Remove from heat.
Meanwhile, in a large bowl, whisk together eggs, milk, cheese, salt and pepper.
Pour egg mixture into muffin cups so that each one is about ½ to ⅔ full. Add sauteed vegetables evenly to each.
Bake 20-25 minutes or until puffed up and golden brown. Cool in muffin tin for about 5 minutes, then remove and serve immediately, or transfer to a wire rack to finish cooling if you are going to refrigerate for later.
Recipe by
Flying on Jess Fuel
at https://www.jessfuel.com/2015/04/10/spinach-and-red-pepper-mini-frittatas/