Leek and Bacon Breakfast Pizzas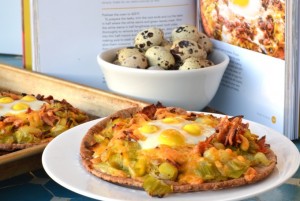 4 medium leeks
4 strips bacon
4 whole-grain pitas
Olive oil
1½ cups shredded Monterey jack (or cheddar) cheese
4 eggs (I used 16 quail eggs)
Fresh cracked black pepper, to taste
Preheat oven to 425 degrees.
Trim the root ends off the leeks and cut the leeks in half where the white stems and green leaves meet. Slice the white part in half lengthwise, then slice crosswise into thin half moons. Place cut leeks in a bowl of cold water and swish around to remove dirt between all the layers. Drain and set aside. Repeat with greens.
Heat a large skillet over high heat. Cook bacon until crispy, then remove from skillet and drain on paper towels, leaving the bacon grease in the skillet.
Reduce heat to medium. Add the green leeks to the skillet and cook until starting to wilt, about 5 minutes. Add the white leeks and cook for 5 more minutes, stirring occasionally, until the whites are translucent and the leeks are soft.
Place the pitas on a baking sheet (or two if they don't all fit on one), and brush them generously with olive oil. Chop the bacon, then top each pita evenly with leeks, bacon and cheese. Make a small well in the center of each pita and crack an egg into it.
Bake until egg whites are set and yolks are still slightly runny, about 10 to 12 minutes. Serve topped with a little fresh cracked pepper.
Recipe by
Flying on Jess Fuel
at https://www.jessfuel.com/2015/04/18/leek-and-bacon-breakfast-pizzas/