Carrot Cake Whoopie Pies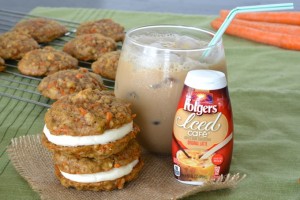 1¼ cups all-purpose flour
½ cup quick oats
¾ tsp baking soda
1¼ tsp cinnamon
¼ tsp ground ginger
⅛ tsp nutmeg
¼ tsp salt
½ cup butter, softened
½ cup sugar
½ cup packed brown sugar
1 large egg
1 tsp vanilla extract
1¼ cups finely grated carrots
¾ cup chopped walnuts
FOR THE FILLING:
4 oz cream cheese, softened
6 tbsp butter, softened
Pinch salt
½ tsp vanilla extract
1½ cups powdered sugar
In a bowl, combine flour, oats, baking soda, cinnamon, ginger, nutmeg and salt. Set aside.
Using an electric or stand mixer, beat butter and sugars until light and fluffy, about 3 minutes. Add egg and vanilla extract and continue beating until fluffy.
Add half the dry ingredients to the wet and mix on low until mostly combined. Repeat with remaining dry ingredients. Increase speed to medium and beat until combined.
Fold in carrots and walnuts. Chill dough for 1 hour.
Preheat oven to 350 degrees.
Drop 2-tbsp balls of dough onto a parchment or silpat-lined baking sheet, about 2 inches apart.
Bake 12-13 minutes, until centers are set. Cool on the pan for a few minutes, then transfer to a wire rack.
Meanwhile, to make the filling, beat together cream cheese, butter, salt and vanilla until light and fluffy. Add the powdered sugar and beat until fluffy. Transfer the filling to a pastry bag (or Ziplock bag with the corner cut off).
Once the carrot cake has cooled, pipe frosting onto one, then sandwich a second on top.
Serve immediately or store in an airtight container in the refrigerator.