Chocolate-Covered Potato Chip Crispy Treats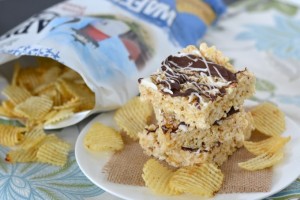 Author:
Flying on Jess Fuel
3 cups crispy rice cereal
3 cups crushed waffle or ridged potato chips
3 tbsp butter
5½ cups mini marshmallows
1 cup chocolate chips
1 cup white chocolate chips
Spray a 9x13 inch baking pan with nonstick spray and set aside.
In a large bowl, toss together cereal and crushed chips. Set aside.
In another large, microwave-safe bowl, melt butter. Add the marshmallows, toss to coat, and microwave 3 minutes, stirring halfway through. Stir until marshmallows are completely melted.
Pour the marshmallow mixture into the chip mixture and very quickly stir it all together with a rubber spatula until the marshmallow is evenly distributed.
Press into the prepared pan. Tip: Use a nonstick-sprayed piece of wax paper to press the mixture into the pan.
Place the chocolate chips in a microwave-safe bowl and microwave for 1 minute. Stir the chocolate chips until melted. If they need to be heated longer, heat in 15-second intervals, stirring in between, until melted. Repeat with white chocolate chips.
Drizzle the chocolates over the crispy treats.
Let cool completely, then cut and serve.
Recipe by
Flying on Jess Fuel
at https://www.jessfuel.com/2015/03/17/chocolate-covered-potato-chip-crispy-treats/