White Chocolate Mango Muffins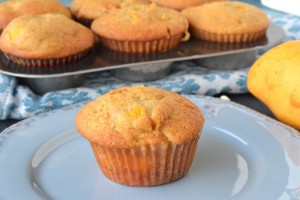 Author:
Flying on Jess Fuel
1 stick (1/2 cup) butter, softened
⅓ cup sugar
¼ cup packed brown sugar
2 large eggs
½ cup vanilla yogurt
1 tsp vanilla extract
1¾ cups all purpose flour
1 tsp baking soda
1 tsp baking powder
½ tsp salt
¼ cup milk
1 cup diced fresh mango
¾ cup white chocolate chips
Preheat oven to 425 degrees. Spray a 12-cup muffin tin with nonstick spray or line with cupcake liners, and set aside.
Using an electric or stand mixer, beat butter and sugars together until light and fluffy. Add the eggs, yogurt and vanilla and beat until thoroughly combined.
In a large bowl, combine flour, baking soda, powder and salt.
Pour half the dry ingredients into the wet and slowly beat until incorporated. Repeat with second half.
Beat in milk until just combined.
Using a spatula, fold in mango and white chocolate chips.
Divide batter evenly between 12 muffin cups.
Bake 5 minutes at 425 degrees. Reduce oven temperature to 350 and bake an additional 20 minutes, or until tops are golden and a toothpick inserted comes out clean.
Remove from oven and cool 5 minutes in the pan, then transfer to wire racks.
Recipe by
Flying on Jess Fuel
at https://www.jessfuel.com/2015/03/16/white-chocolate-mango-muffins/