Jalapeno Scalloped Corn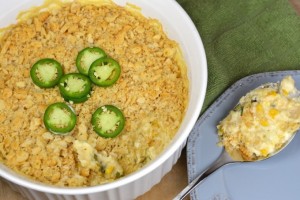 Author:
Cuisine at Home Magazine
6 tbsp butter, divided
1 bunch scallions, sliced, whites and greens separated
1 medium jalapeno, minced
3 garlic cloves, minced
1 (14 oz) can cream-style corn
1 (oz) package neufchatel (or cream cheese), softened
1 tsp dry mustard
1 (15 oz) can corn, drained
1 sleeve plus ½ cup crushed Ritz crackers, divided
Salt & pepper, to taste
Preheat oven to 375 degrees. Spray a 2-quart casserole dish or 8-inch baking dish with nonstick spray and set aside.
Melt 4 tbsp butter in a saucepan over medium heat. Add scallion whites and cook until beginning to soften, about 5 minutes. Add jalapeno and garlic, and continue cooking 3 minutes. Remove from heat.
Using a food processor or blender, puree cream-style corn, neufchatel and dry mustard.
In a bowl, combine jalapeno mixture, neufchatel mixture, scallion greens, corn and ½ cup crushed Ritz. Mix well and season to taste with salt & pepper. Pour into casserole dish.
Melt remaining 2 tbsp butter, then toss with crushed sleeve of Ritz. Set aside.
Bake scalloped corn for 25 minutes. Remove from oven, sprinkle with buttered Ritz mixture, then return to oven and bake an additional 10 minutes until golden brown.
Let sit 15 minutes before serving.