Thin Mint Truffles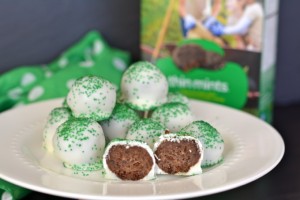 Author:
Flying on Jess Fuel
1 (9 oz) package Thin Mint Girl Scout cookies
1 (8 oz) block cream cheese, softened
10 oz white chocolate chips or vanilla Candiquik
Sprinkles, optional
Using a food processor (or Ziplock back and a mallet), crush the cookies to a fine crumb.
Mix together the cream cheese and cookie crumbs. (I used a stand mixer because it was easy, but you could do this by hand.)
Roll the cookie mixture into small balls and place on a parchment-lined baking sheet. Place the baking sheet in the fridge and chill for 15-30 minutes.
Once the cookie balls are chilled, melt the white chocolate chips either in the microwave or over a double boiler.
Dip the cookie balls into the white chocolate, then place back onto the parchment-lined cookie sheets. Top with sprinkles, if desired.
Let the truffles harden completely before serving. Store in the fridge.