Orange Creamsicle Cookies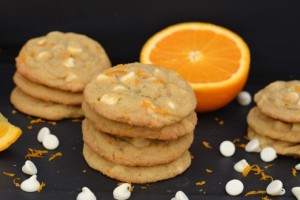 Author:
Taste of Home Best Loved Cookies and Bars 2009
1 cup butter, softened
½ cup sugar
½ cup packed brown sugar
1 egg
1 tbsp fresh orange zest (from about 1½ large oranges)
2¼ cups all purpose flour
¾ tsp baking soda
½ tsp salt
1½ cups white chocolate chips
Preheat oven to 350 degrees.
Using a stand or electric mixer, beat together butter and sugars until light and fluffy. Beat in egg and orange zest.
In a separate bowl, combine flour, baking soda and salt.
Add half the dry ingredients to the butter mixture and best until incorporated, then add the remaining dry ingredients and continue beating until well mixed.
Fold in the white chocolate chips.
Drop heaping tablespoons of dough onto ungreased baking sheets, at least 2 inches apart.
Bake 10-12 minutes, until edges are just beginning to brown. Let cool on the pan 2 minutes, then transfer to a wire rack.
Recipe by
Flying on Jess Fuel
at https://www.jessfuel.com/2015/03/03/orange-creamsicle-cookies/