Coconut Flour Banana Nut Muffins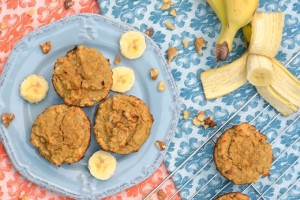 Author:
Flying on Jess Fuel
3 eggs
2 tbsp coconut oil
3 medium ripe bananas
2 tbsp milk
2 tbsp coconut sugar (or brown sugar)
¼ tsp vanilla extract
½ cup coconut flour
¼ tsp baking powder
1 tsp cinnamon
Pinch nutmeg
¼ tsp salt
½ cup walnuts or pecans
Preheat oven to 400 degrees. Spray a 6-cup muffin tin with nonstick spray.
Using a stand or hand mixer, beat eggs, coconut oil, bananas, milk, sugar and vanilla until smooth.
In a medium bowl, whisk together coconut flour, baking powder, cinnamon, nutmeg and salt.
Add half the dry ingredients to the wet and beat until combined. Add the remaining dry ingredients and beat until everything is well incorporated.
Fold in the nuts.
Divide the batter evenly between 6 muffin cups.
Bake 18-20 minutes, until tops are golden and a toothpick inserted comes out clean. Cool for a few minutes in the pan, then transfer to a wire rack.
This recipe is grain-free. It can be made gluten-free. If you are baking gluten-free, make sure all your ingredients (such as baking powder) are gluten-free varieties.
Recipe by
Flying on Jess Fuel
at https://www.jessfuel.com/2015/02/27/coconut-flour-banana-nut-muffins/