Italian Sausage and Kale Lasagna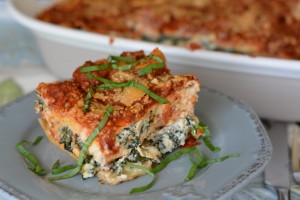 Author:
Adapted from A Day in the Life on the Farm
1 tbsp olive oil
1 large onion, diced
1 lb Italian sausage, casings removed
1 bunch kale, stems removed, steamed and chopped
32 oz ricotta cheese
1 cup grated Parmesan cheese
6 eggs
1 tsp dried Italian herbs
Salt & pepper, to taste
1 package oven ready lasagna sheets
1½ jars marinara sauce
Heat olive oil in a large skillet over medium-high heat. Add the onion, and cook until softened, about 5 minutes. Add the Italian sausage, breaking it up in the pan, and continue to cook until the meat is cooked through. Drain excess grease and set aside to cool.
Preheat oven to 350 degrees.
In a large bowl mix together the ricotta, Parmesan, eggs, kale and Italian herbs. Season with salt & pepper. Stir in the sausage and onions.
Spread about a cup of sauce on the bottom of an 9 x 13-inch pan. Place a layer of noodles over top. Spread a layer of ricotta mixture over the noodles, then a layer of sauce. Repeat layers until ingredients are gone, ending with a layer of noodles topped with marinara sauce. Sprinkle additional Parmesan on top, if desired.
Cover pan tightly with foil, and bake 35 minutes. Remove foil and bake an additional 10 minutes until lasagna is bubbling and top is lightly browned. Let stand 10 minutes before cutting.
Recipe by
Flying on Jess Fuel
at https://www.jessfuel.com/2015/02/22/src-italian-sausage-and-kale-lasagna/