Slow Cooker White Chicken Chili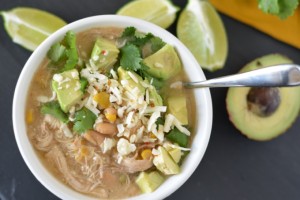 Author:
Adapted from Host the Toast
6 boneless, skinless chicken thighs
2 tsp chili powder
2 tsp cumin
1 small onion, diced
6 garlic cloves, minced
1 tsp ground oregano
½ tsp ground coriander
¼ tsp cayenne pepper
2 (4.5 oz) cans diced green chiles
1 (15 oz) can corn, drained and rinsed
2 (15.5 oz) cans cannellini beans, drained and rinsed
1 (14.5 oz) can chicken broth
3 tbsp butter
3 tbsp flour
1 cup milk
1 cube chicken bouillon
Salt & pepper, to taste
½ cup plain Greek yogurt (or sour cream)
For serving: lime, avocado, cilantro, shredded white cheddar
Place chicken thighs in the bottom of a crock pot. Add the chili powder, cumin, onion, garlic, oregano, coriander, cayenne pepper, green chiles, corn, beans, and chicken broth. Stir to combine, cover, and cook on low for 6 hours, or until chicken shreds easily with a fork.
An hour before serving, melt the butter in a small saucepan over medium-high heat. Once the butter melts, whisk in the flour. Whisk constantly, until the flour and butter thicken and brown to the color of peanut butter. Then, slowly whisk in the milk. Add in the chicken bouillon, and continue to whisk as the sauce cooks and thickens and the bouillon cube breaks down, about 5 minutes.
Remove the saucepan from heat and season with salt and pepper. Pour into the crock pot and stir. If the chicken hasn't shredded as you stirred, remove the chicken from the chili and shred with forks before returning to the chili. Cook for an additional hour.
Right before serving, stir in the yogurt.
Serve with lime, avocado, cilantro, and shredded white cheese.
Recipe by
Flying on Jess Fuel
at https://www.jessfuel.com/2015/02/21/slow-cooker-white-chicken-chili/