Chocolate Peanut Butter Cereal Bars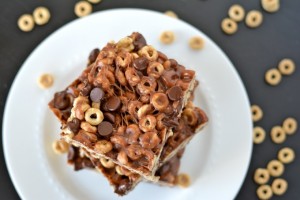 2 tbsp butter
10 oz marshmallows
⅓ cup peanut butter
1½ cups chocolate chips, divided
6 cups Honey Nut Cheerios
Spray a 9x13 inch pan with nonstick spray and set aside.
In a large pot, over low heat, melt the butter and marshmallows together, stirring frequently. Be sure to melt the marshmallows low and slow to avoid hard bars (I learned that one the hard way-- no pun intended).
When the marshmallow mix is smooth, stir in peanut butter and 1 cup of the chocolate chips until just melted, then immediately remove from heat.
Stir in Cheerios. It may take a little muscle, but it will come together if you keep stirring.
Pour cereal mix into sprayed pan and press down evenly with a spoon.
Sprinkle remaining chocolate chips over top and press lightly into the bars.
Cool completely, then cut into squares!
Recipe by
Flying on Jess Fuel
at https://www.jessfuel.com/2015/02/17/chocolate-peanut-butter-cereal-bars/