Thai Shrimp Salad with Coconut Curry Dressing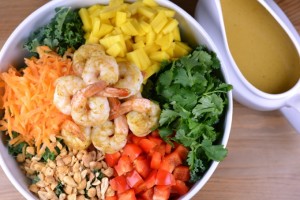 Author:
Adapted from The Wicked Noodle
1 (14.5 oz) can coconut milk
¼ cup creamy peanut butter
1 tbsp + 1 tsp yellow curry powder, divided
1 clove garlic, minced
Juice of 1 lime
1 tbsp sriracha sauce (less if you don't like it spicy)
1 tsp olive oil
1 lb large tail-on peeled and deveined raw shrimp
2 cups chopped napa cabbage
3 cups chopped kale
1 red bell pepper, diced
2 medium carrots, shredded
1 mango, diced
½ cup dry roasted peanuts, roughly chopped
½ cup chopped cilantro
To make the dressing: In a blender, combine coconut milk, peanut butter, 1 tbsp curry powder, garlic, lime juice and sriracha. Blend until smooth.
Pour dressing into a small saute pan. Bring to a boil over medium-high heat, then reduce heat and simmer 10 minutes until slightly thickened. Remove from heat to cool.
Meanwhile, heat the olive oil in a large skillet over medium high heat. Add the shrimp and 1 tsp curry powder and saute, tossing to coat evenly, until shrimp is cooked through, about 5 minutes. Set aside to cool.
Toss remaining ingredients in a large bowl. Top with shrimp, then serve with dressing.
Recipe by
Flying on Jess Fuel
at https://www.jessfuel.com/2015/02/13/thai-shrimp-salad-with-coconut-curry-dressing/