Beet & Blue Cheese Tart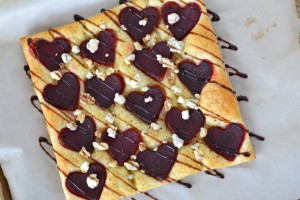 Author:
Flying on Jess Fuel
2 large beets, stems removed and ends trimmed
½ cup balsamic vinegar
1 sheet puff pastry, thawed
Olive oil
Salt & pepper
2 tbsp blue cheese crumbles
2 tbsp chopped toasted walnuts
Heat oven to 450 degrees. Wrap beets individually in tin foil. Place them on a baking sheet and roast 50 minutes, until tender. Remove from oven, unwrap and let cool enough to handle. Reduce oven heat to 350 degrees.
Meanwhile, heat the balsamic vinegar in a small saucepan over medium-high heat. Bring to a boil, then reduce heat and simmer until glaze thickens and coats the back of a spoon. Set aside and let cool.
When the beets are cool enough to handle, peel the skin off with your fingers or a paper towel (it should peel right off after being roasted).
Thinly slice the beets, then (if desired) cut the slices into hearts or other shapes with cookie cutters.
Flatten out a sheet of puff pastry on a parchment-lined baking sheet. Lightly brush with olive oil, then sprinkle with salt and pepper. Using a fork, prick the puff pastry several times, so it doesn't puff up too much.
Arrange the beet slices on top of the puff pastry.
Bake at 350 degrees for 15-20 minutes, until pastry is puffed and golden.
Remove from oven and immediately sprinkle with blue cheese and walnuts.
Let cool slightly, then drizzle glaze over top. Serve immediately.