Coconut Flour Carrot Cake Donuts with Cream Cheese Glaze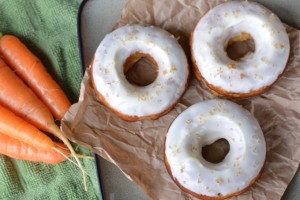 Author:
Flying on Jess Fuel
½ cup coconut flour
½ tsp baking powder
½ tsp salt
½ tsp cinnamon
½ tsp ground ginger
6 eggs, at room temperature
4 tbsp butter, melted and slightly cooled
⅓ cup honey
½ tsp vanilla extract
1½ cups shredded carrots
½ cup walnuts, roughly chopped
FOR THE GLAZE:
4 oz cream cheese, softened
2 tbsp butter, softened
1½ cups powdered sugar
1 tsp vanilla extract
2-3 tbsp milk
Preheat oven to 400 degrees. Spray two 6-donut pans with nonstick spray.
In a large bowl, whisk together coconut flour, baking powder, salt and spices.
In another bowl, lightly beat eggs, then add butter, honey and vanilla and whisk to combine.
Pour the wet ingredients into the dry and mix well until no lumps remain.
Fold in the carrots and walnuts.
Transfer the batter to a pastry bag (you don't have to do this, but I find it easier to get it into the donut pans without making a mess) and pipe evenly into donut pans.
Bake 10-12 minutes, until edges are just turning golden.
Cool in the pan a few minutes, then transfer to a wire rack.
To make the glaze: Beat the butter and cream cheese together with an electric mixer until light and fluffy. Add the powdered sugar, ½ cup at a time and beat to combine. Add the vanilla extract and beat until fluffy. Add milk as needed until the glaze is drippy enough to dunk your donuts in.
Dunk the donuts in the glaze, then let set a few minutes before serving.
If you don't like walnuts, you could replace them with pecans or raisins, or omit altogether.
Recipe by
Flying on Jess Fuel
at https://www.jessfuel.com/2015/01/30/coconut-flour-carrot-cake-donuts/