Whole Wheat Gingered Sesame Plum Muffins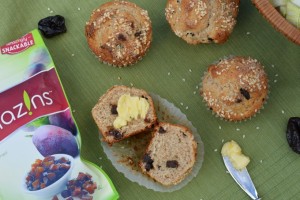 Author:
Flying on Jess Fuel
1 cup whole wheat flour
1 cup all purpose flour
½ cup + 1 tbsp sugar, divided
1 tbsp baking powder
1 tsp salt
1½ tsp ground ginger, divided
1 egg, at room temperature
1 cup milk
⅓ cup melted coconut oil, cooled sightly
1 cup diced dried plums
1 tbsp sesame seeds
Preheat oven to 425 degrees. Spray a 12-cup muffin pan with nonstick spray OR line with paper muffin cups.
Sift together flours, ½ cup sugar, baking powder, salt and 1¼ tsp ground ginger into a large bowl.
In another bowl, lightly beat egg. Add milk and coconut oil and beat to combine.
Pour the wet ingredients into the dry and mix until just combined. Gently fold in the dried plums.
Divide the batter evenly between 12 muffin cups.
In a small bowl, stir together 1 tbsp sugar/ ¼ tsp ground ginger, and 1 tbsp sesame seeds. Sprinkle the mixture evenly over tops of muffins.
Baked muffins 20 minutes, until tops are just turning golden and a toothpick inserted in the center comes out clean.
Let cool in the pan 5 minutes, then transfer to a wire rack.
Recipe by
Flying on Jess Fuel
at https://www.jessfuel.com/2015/01/28/whole-wheat-gingered-sesame-plum-muffins/