Amaretto-Kissed Butternut Squash Soup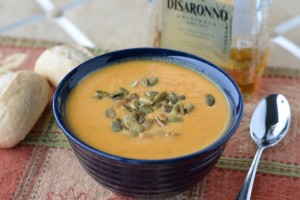 1 medium-size butternut squash, peeled, seeded, cut into 1-inch cubes
4 carrots, cut into 1-inch pieces
1 large yellow onion, chopped
3 tbsp olive oil, divided
3 garlic cloves, minced
⅓ cup Amaretto
½ tsp dried thyme
4 cups low-sodium chicken stock
½ cup heavy cream or half & half
Salt and pepper, to taste
Toasted pepitas, for serving
Crusty bread, for serving
Preheat oven to 450 degrees.
Toss squash, carrots and onion with 2 tablespoons of olive oil. Spread evenly on one or two baking sheets. Roast 25 minutes until squash and carrots are softened and lightly browned, tossing once halfway through. Remove baking sheets from oven and set aside.
After about 15 minutes of roasting, heat remaining olive oil in a 6-quart or larger pot over medium heat. Add garlic and thyme, and saute 30 seconds to release flavors, then carefully pour in the Amaretto. Bring to a boil, then simmer a few minutes until Amaretto is reduced by about half. Stir in stock; cover and bring to a slow simmer.
Stir in roasted veggies. Re-cover and return to a simmer. Reduce heat to low and simmer for 10-15 minutes or until squash and carrots are very soft.
Use an immersion blender (or transfer the soup to a regular blender) to puree the soup until there are no lumps remaining.
Remove from heat and stir in heavy cream. Season with salt and pepper, to taste.
Serve topped with pepitas and alongside some crusty bread for dipping!
Recipe by
Flying on Jess Fuel
at https://www.jessfuel.com/2015/01/25/src-amaretto-kissed-butternut-squash-soup/