Greek Tuna Salad Wraps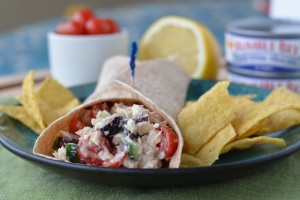 Author:
Flying on Jess Fuel
¼ cup plain Greek yogurt
Juice of ½ lemon
1 tbsp extra virgin olive oil
½ tsp dried oregano
2 tbsp feta cheese
2 (5 oz) cans Bumble Bee tuna
¼ cup quartered Kalamata olives
½ English cucumber, diced
½ cup grape or cherry tomatoes, halved (or quartered if large)
Salt & pepper, to taste
4 whole wheat wraps
In a small bowl, whisk together yogurt, lemon juice and olive oil. Stir in oregano and feta cheese.
In another bowl, toss together tuna, olives, cucumber and tomatoes. Pour in yogurt mixture and toss gently until combined. Season with salt and pepper.
Serve tuna salad in whole wheat wraps!