Frosted Candy Cane Blondies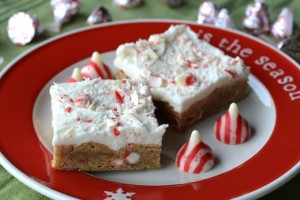 Author:
Flying on Jess Fuel
2 cups + 2 tbsp all purpose flour
½ tsp salt
½ tsp baking soda
1½ sticks butter, divided, softened
1 cup light brown sugar, packed
½ cup sugar
2 eggs
½ tsp peppermint extract
2 cups roughly chopped Candy Cane Hershey Kisses, divided
FOR THE FROSTING:
1 stick butter, softened
4 cups powdered sugar
¼ cup milk
½ tsp vanilla extract
¼ tsp peppermint extract
Preheat oven to 350 degrees. Line a 9 x 13 inch pan with foil, then spray with nonstick spray and set aside.
In a small bowl, whisk together flour, salt and baking soda.
In a large bowl (or the bowl of a stand mixer), beat together butter and sugars with an electric (or stand) mixer. Once combined, add the eggs and peppermint extract and beat together.
Add half the flour mixture to the wet ingredients and mix until incorporated, then add the other half and mix until combined.
Fold in 1¼ cups of the candy cane kisses.
Spread the batter evenly in the pan.
Bake about 24 minutes, until edges are golden. Remove from oven and let cool in pan about 15 minutes. Then, with the help of the foil, remove from pan. Cool completely on a wire rack before frosting.
To make the frosting, whip the butter with an electric mixer until fluffy. Add half the powdered sugar and beat until incorporated. Add the remaining sugar, milk and peppermint extract. Beat until fluffy.
Frost the blondies, then sprinkle the remaining candy cane kisses over top. Cut and serve!
Recipe by
Flying on Jess Fuel
at https://www.jessfuel.com/2014/12/22/frosted-candy-cane-blondies/