Mini Persimmon Spice Cakes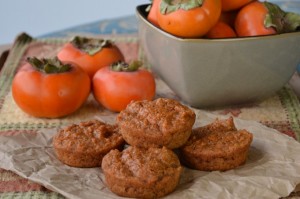 Author:
Flying on Jess Fuel
2 cups pureed persimmons (about 4-5 persimmons)
2 eggs
½ cup coconut oil, melted
½ cup pure maple syrup
1 tsp vanilla extract
1½ cups flour
1 tsp baking powder
1 tsp baking soda
½ tsp salt
1 tsp cinnamon
½ tsp ground ginger
Pinch ground nutmeg
Pinch ground cloves
Preheat oven to 400 degrees.
Use a food processor or blender to puree persimmons (stems removed) into a smooth pulp.
In a bowl, whisk together persimmon puree, eggs, coconut oil, maple syrup and vanilla extract.
In another bowl, combine flour, baking powder, soda, salt and spices.
Pour wet ingredients into dry and stir until just combined.
Scoop batter evenly into about 18 non-stick sprayed muffin cups (fill about ¾ full).
Bake 20-25 minutes, until cakes are set.
Let cool in muffin tins 10 minutes, then transfer to wire racks.
Serve warm or cool.
Recipe by
Flying on Jess Fuel
at https://www.jessfuel.com/2014/12/08/mini-persimmon-spice-cakes-and-300-amazon-gift-card-giveaway/