Roasted Beet and Sage Crackers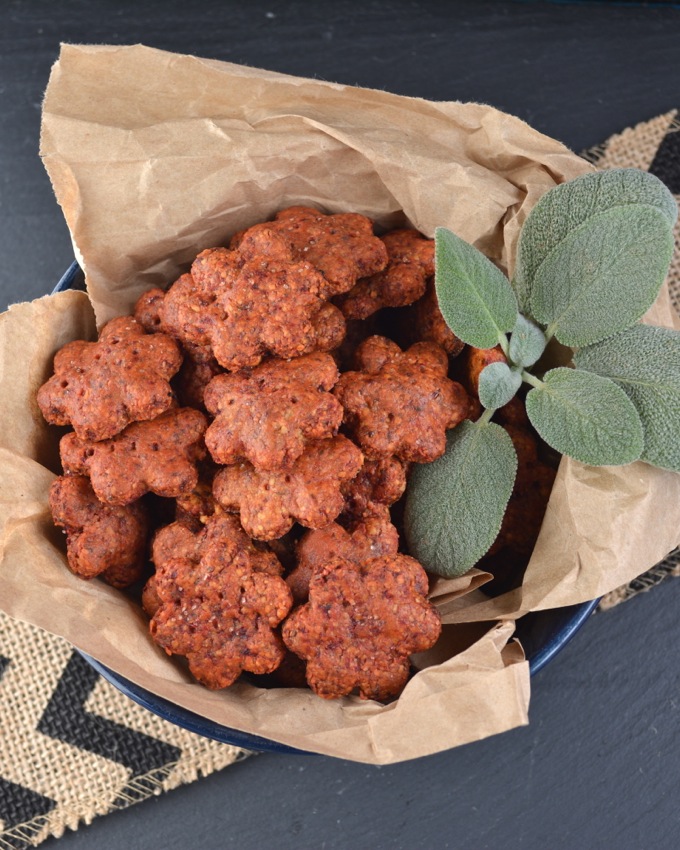 2 tsp extra virgin olive oil
½ cup diced beets
⅓ cup chopped walnuts
6 medium fresh sage leaves
½ cup whole wheat flour
1 cup grated Parmesan cheese
1 tbsp flaxseed
Water, as required (about ¼ cup)
Salt
Preheat over to 375 degrees. Toss beets with olive oil and spread on a baking sheet. Bake until tender, about 25-30 minutes. Let cool slightly.
In a food processor, combine beets, walnuts and sage leave. Pulse until finely ground. Add flour, Parmesan and flaxseed, and pulse to combine. Turn food processor on and slowly add water just until a dough ball forms.
Roll out dough to about ⅛-in thick. Cut with small cookie cutters or cut into squares with a sharp knife. Arrange on parchment-lined baking sheets. Poke each cracker with fork prongs to prevent from puffing up. Sprinkle with salt. Bake at 375 until edges are just beginning to brown, about 20-30 minutes.
Recipe by
Flying on Jess Fuel
at https://www.jessfuel.com/2014/10/26/src-roasted-beet-and-sage-crackers/